In May of 1944, thirteen African-American men in North Chicago would rise in the face of segregation and discrimination and forever shape the future of the U.S. Navy.
Changing history
During World War I, the Armed Forces was entirely segregated, leaving fighting for the United States less than united. While black Americans were allowed to register for the draft, the vast majority ended up in labor roles and menial tasks, such as road-building. By the second World War, not much had changed. Now most blacks served in the Messmen and Steward branches, fulfilling essential, yet entry-level jobs. Additionally, these branches were not allowed to become commissioned officers, ending career dreams for any black American Sailor. While there were exceptions to the rule, most black Americans found themselves losing their full potential.
In June of 1941, that began to change. President Franklin Roosevelt signed order 8802, which prevented racial discrimination in any capacity in any government agency. From then on, changes started to occur. In 1943, the Navy began to commission black officers, launching an accelerated training program to assist in the process, and Chicago was the place to start. They hand-selected sixteen African-American men training at the Great Lakes Naval Training Station near North Chicago, and the Golden Thirteen began to take shape.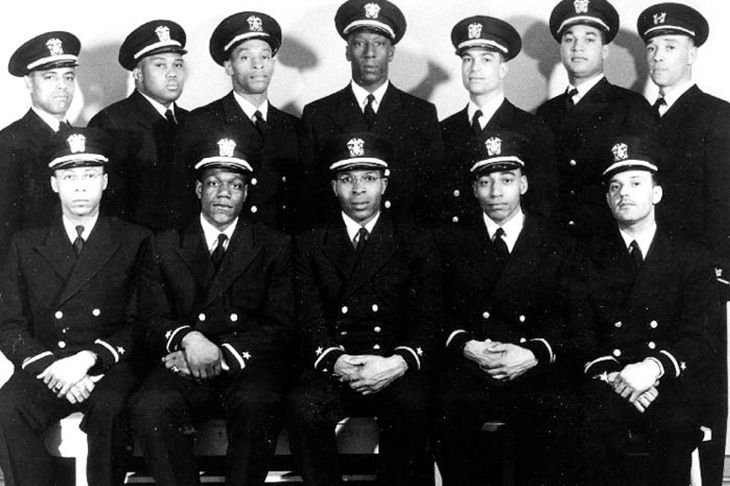 Most of the sixteen men were Chicago natives themselves, and eager to begin training. Many of them had been to college and several of them carried advanced degrees. Some were athletes, some were teachers, but they all had exemplary service records. They worked diligently through the program, deciding early on to work with, not against, each other.
We were determined to succeed in spite of the burdens that would be placed on us.
Samuel Barnes later said of the critical choices being made, "We decided not to compete with other members of the group, so we had many study sessions together. We were determined to succeed in spite of the burdens that would be placed on us. We knew that we were the foot in the door for many other Black Sailors, and we were determined not to be the ones who were responsible for having the foot removed."
They were so determined, in fact, that they had a class GPA of 3.89 upon graduation, still the record for any class of officers at the Station. All sixteen men passed training, and thirteen were commissioned at Great Lakes in March 1944.
Creating a legacy
Together, John Walter Reagan, Jesse Walter Arbor, Samuel David Jones, Darion Damon Ivy III, Graham Edward Martin, Phillip George Barnes, Reginald Goodwin, James Edward Hair, Samuel Edward Barnes, George Clinton Cooper, William Sylvester White, Dennis Denmark Nelson, and Charles Byrd Lear became commissioned Ensigns and Officers and the group was officially born.
During their careers, they worked quietly within the Navy, overseeing all-black units or training black recruits. One of them would go on to make his career in the Navy after the war, but the rest would return to civilian life. Together, they began to see the results of their achievements, most notably when President Harry S. Truman officially desegregated the military in 1948. Later in life, they would be recognized time and time again for their efforts in paving the way for future black Americans in the Navy. In the 1970s, Captain Edward Secrest gave them the name "Golden Thirteen", helping to cement their legacy in Naval and American history.
Today, though the last surviving member has long since passed, their name lives on. Now when new cadets arrive for basic training at the Great Lakes Center, they meet in the "Golden Thirteen" Recruit Inprocessing Center, a building dedicated to all thirteen men. And in North Chicago, a WWII memorial honors the Golden Thirteen and their impact on the war. But perhaps their greatest achievement was simply doing what no one else had done, and in doing so, forever altering the course of history in the U.S. Navy and inspiring generations to come.