Although one of the lesser-known facts in America's history, Chicagoland played a key role during both WWI and WWII—with factories producing war-related goods, multiple military training facilities preparing thousands of young men and women and loyal citizens to defend democracy against the perils of tyranny.
Home to Navy Pier, which served as a military training base in both wars, the city of Chicago rallied around the needs of a nation, finding ways to become a true Navy town. Learn about Chicago's response to a world at war.
ChicagoLAND's contribution to WORLD WAR I and WORLD WAR II
In 1916, Chicago's Navy Pier was known as Municipal Pier, created for recreational and commercial shipping purposes. Just two years prior to the opening of Municipal Pier, the countries of Europe were embroiled in hostilities of the Great War, better known as World War I. The United States was on the verge of being brought into the war. In preparation for America's entering the Great War, the Navy commenced one of the largest training programs that grew the U.S. Navy from about 59,000 Sailors in 1916 to approximately 530,000 by the end of the war in late 1918. This monumental undertaking was achieved, in part, with the assistance and cooperation of Chicago's political, business, and professional leaders who came together and worked with the U.S. Navy to establish the United States Naval Auxiliary Reserve School at Municipal Pier. Along with Navy training schools located at Cleveland and Pelham Bay, New York, Chicago's Municipal Pier grew the ranks of the U.S. Navy during World War I.
These schools were established to develop young men into capable and effective officers who manned troop and cargo transports. These courageous young men served honorably and with distinction. With the end of the war in November 1918, the need for naval officers came to a halt and the pier reverted back to its original purposes. In 1927, Chicago's Municipal Pier was renamed Navy Pier, in honor of the contributions of the thousands of brave Navy and Merchant Marine trainees who lived, trained, worked, and deployed from Chicago in support of the Great War.
World War II was a truly national effort and no person or thing was exempt, including industrial factories. Industrial cities poured their efforts into building new facilities and converting current ones to produce war-related products that could go to serve the front lines. Chicago quickly joined the efforts, becoming second only to Detroit in the estimated value of war products created during the time. Over the course of the war, more than 1,400 companies produced anything and everything that was essential for war fighting. The Dodge Chicago Aircraft Engine Plant, a division of Chrysler Corporation, built a $100 million factory for the production of B-29 Superfortress bombers, a facility which, at the time, was considered the largest in the world. Other companies converted the factories they already had into production of military goods; anything from rations to torpedoes to electronic equipment to blitz cans.
But all these factories and businesses needed additional labor to help produce the massive amount of goods. To answer the nation's cry for help, tens of thousands of civilians joined the effort. African Americans, Japanese Americans, and members of Chicago's many other diverse ethnic communities, as well as thousands of women, stepped into new roles and jobs, helping to win the war from behind the lines.
Naval training on Lake Michigan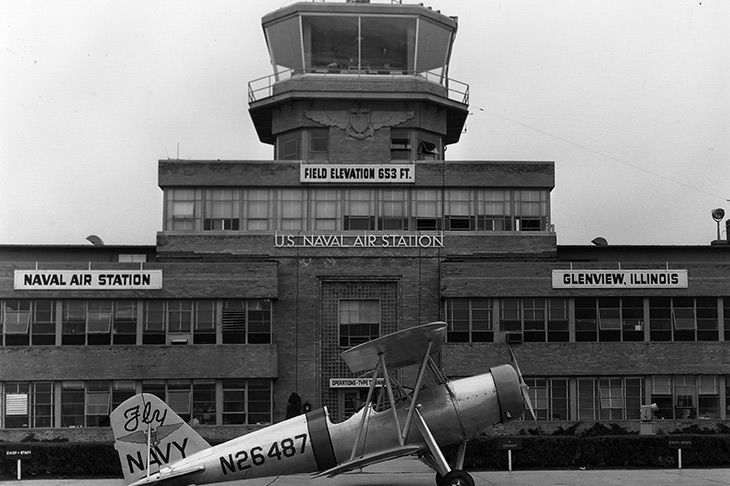 Chicagoland also became a nexus for the training of new Navy recruits. With the financial assistance of Chicago's business community, the Navy established the Great Lakes Naval Training Station located at Lake Bluff, Illinois, on the shores of Lake Michigan. Opened on July 1, 1911, the training station was originally designed to train 1,500 Sailors at any given time with provisions to increase training capacity if necessary. With the war in Europe threatening to embroil the United States, the training station rapidly increased in capacity and size leading up to and during WWI. The Great Lakes Naval Training Station served as an ideal location for naval training because it provided airspace for flight training and protected waters for ships. By the end of World War I, approximately 125,000 sailors had been trained at the station. Additionally, after the war, the Navy expanded its aviation training and relocated the training station's aviation component to Glenview, Illinois, to accommodate the increased need. The new facility was called the Naval Air Station, Glenview. Both naval stations would make major contributions to World War II.
During the Second World War, the Navy purchased two luxury cruise ships, retrofitting and modifying them to become the only freshwater aircraft carriers, and renaming them USS Wolverine and USS Sable. They provided training from Navy Pier on Lake Michigan, in waters safe from enemy submarines. Through these creative solutions, the Navy was able qualify 18,000 pilots for carrier operations.
In August 1941, just months before the suprise attack on Pearl Harbor, the Navy transformed Navy Pier into Naval Air Technical Training Center, Chicago. The center housed up to 12,000 Sailors and Marines at a time--stacked in triple bunks, classrooms, laboratories, gymnasiums, a drill hall, and an aircraft hanger. In all, approximately 60,000 men received technical training on the Pier. The center--which featured instruction in diesel mechanics, aviation motor mechanics, radio, and advanced electronics--was considered the largest job specific training program in the country at the time.
Although Naval Air Station, Glenview closed down in 1995, the Chicago legacy lives on through the men who walked through her doors, such as Presidents George H. W. Bush and Gerald Ford, and astronaut Neil Armstrong. Today, Naval Station, Great Lakes is the U.S. Navy's sole initial training center, or Boot Camp, where 35,000 civilians are trained to become Sailors annually to serve aboard the nation's ships and shore stations in defense of our country.
CHICAGO'S Civilian Support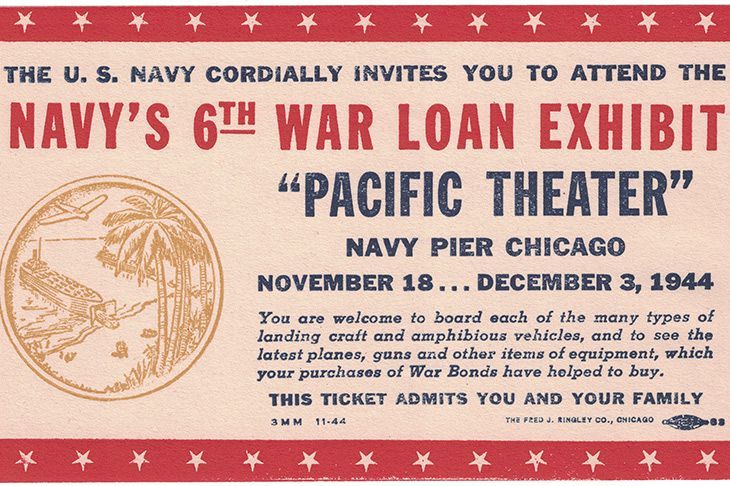 Contributing to a war isn't only producing war goods and training military recruits, something the community of Chicago knew very well. For those who stayed at home, coming together in support of a loved one and America became a way of life. Children collected scrap metal for recycling and saved up change to purchase war bonds of their very own. Families planted victory gardens, producing their own food so that more resources could be sent overseas. Communities attended rallies and bought war bonds time and time again, providing additional resources and support for their men and their nation.
Together, the people of Chicago became more than just a city during​​​​​​ World War I and II. They became a community, offering undying support and loyalty over the years. Their inspiring legacy lives on in the victories of both wars, and in their continued support of the Navy and the nation.