The future president became one of the Navy's youngest aviators and faced death in the skies; what would prove to be the beginning of a lifetime of selfless service.
As a high school senior at Phillips Academy in Andover, Massachusetts, George Bush heard of the devastating attack on Pearl Harbor in 1941. At that moment, he knew he wanted to help defend the nation he loved. He wanted to become a pilot and he was drawn by the Navy's legacy, brotherhood, and purpose. In June 1942, just after completing high school, Bush enlisted the day he turned 18. He joined the U.S. Navy as an aviator, making a choice that would shape the rest of his life.
Bush shipped out to Illinois, beginning his training at the Great Lakes Reserve on Lake Michigan. He completed his training and aircraft carrier qualifications on USS Sable, one of two ships refitted by the Navy to be used in freshwater training. Anchored at Navy Pier, the ships provided Sailors with a safe and secluded environment to train, allowing pilots like Bush the capabilities to complete his training quickly. In June 1943, just days away from turning 19, he became an officer of the U.S. Naval Reserve. At the time, he was the second youngest pilot in the entire U.S. Navy.
There is nothing more fulfilling than to serve your country and your fellow citizens and to do it well.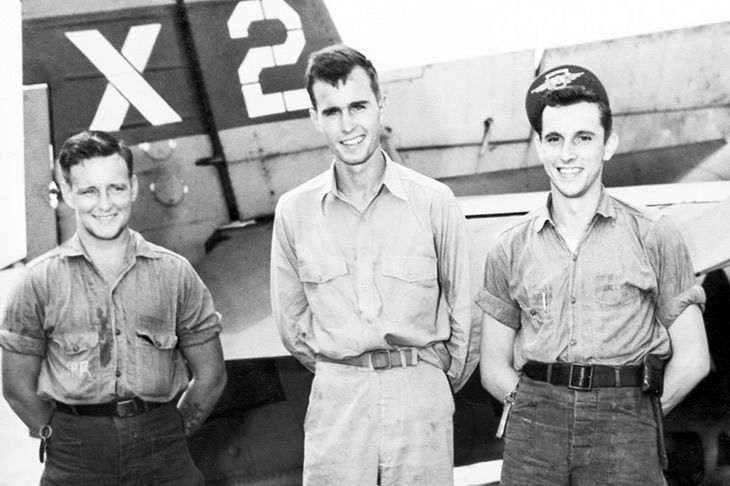 After being promoted to Lieutenant Junior Grade, Bush was scheduled to fly in a strike over Chichi Jima, a Japanese island around 700 miles south of Tokyo. On September 2, 1944, he piloted one of four TBM Avengers with the goal of destroying the Japanese radio tower. He and his two crew members flew in, but in just over an hour, their plane was hit. Smoke billowed in the cockpit and within moments, their wings were engulfed in flames. Despite all this, Bush still managed to complete his attack, releasing the bombs and scoring several major hits, including the radio tower.
He and the other men jumped from the burning plane, where they lost contact. Bush parachuted to the water and climbed onto his inflated liferaft. Four hours later, the USS Finback pulled him out of the water, saving the life of the future president. Of all nine men who escaped from their planes that day, only Bush survived.
Later, he was awarded the Navy Distinguished Flying Cross for his heroism in flight, but the experience stayed with him for a lifetime. After the war ended, he was honorably discharged in 1945. He returned to civilian life, using his naval experiences to shape his leadership and legacy. He became the 41st president of the United States on January 20, 1989, dedicating his entire life to service and sacrifice for the country he loved so deeply.
George H. W. Bush passed away on November 30, 2018, leaving behind a stunning legacy of service to his country.